PROBLEM
Trauma is a major cause of death and disability.
Road accidents are likely to become the biggest killer of African children between 5 and 15 within the next two years.
By 2030, road accidents will be the fifth leading cause of death in the developing world (ahead of malaria, tuberculosis and HIV).
A good outcome following injury requires a 'chain of survival' with immediate first aid, skilled assessment and resuscitation in the 'golden hour' following injury, followed by further treatment and rehabilitation. Prevention is also vital.

GOALS
Reduce mortality and disability due to trauma and injury worldwide.
Demonstrate each step in the 'chain of survival' following major injury.
Support primary health care workers in treating minor injuries and referring more serious problems.
Raise public awareness of first aid and injury prevention.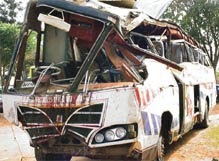 SOLUTIONS
Work with an experienced, international author team to develop appropriate, high-quality learning materials for each audience and region.
Gather clinical videos in our target regions (to increase engagement and local relevance).
Highlight key clinical skills and practical procedures through video demonstration.
Engage with users to shape materials and obtain learner/user feedback.
TARGETS
Develop a resource for doctors, nurses and allied health professionals for Africa, Asia and Europe/America/Australasia, covering Major injuries (including scene safety, airway management, spinal immobilisation, defibrillation, cannulation, fluid and oxygen therapy, trauma & medical emergency skills, advanced trauma – chest, abdominal, head and extremity); and Minor Injuries (such as minor fractures, soft tissue injuries, lacerations, bites).
Produce a simpler, focused version for community health workers, most of whom work in remote locations, focusing on the first response to major injury and treatment/referral of minor injuries.
Provide education for the wider community on prevention of trauma and first aid.
Assess the impact on knowledge, skills and decision making of health workers; and on patients' attitudes to injury prevention and skills in first aid.
Preventing death and disability from trauma and injury.